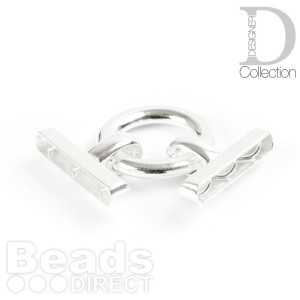 Sterling Silver 925 3 Strand 2 Clip Clasp 19x35mm 7.9g 1xSet
Sorry, this product was so popular it's out of stock!
Notify me when it's in stock
You are getting a substantial amount of silver with this sterling silver 925 3 strand 2 clip clasp. You can make something amazing that will really last with this chunky clasp. The clasp consists of a large ring and two clips, both of which can be used when fastening the clasp. Inside the ends is a 3 loop spiral that you could use to attach your three strands of cord.
Hallmarked 925 on both parts of the clips and ring.
Clasp when closed measures approx. 19x35mm.
Space for cord measures approx. 3x18.5mm.
Weight of the silver is approx. 7.9g.
Sold as 1 set.