Bead Chandeliers are becoming one of the big interior design ideas of the season. Designs range from the colourful to the grand.
This is a selection of some of our favourites
1.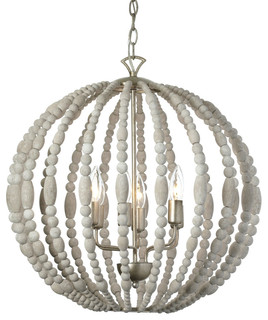 Bead 6-Light Chandelier, Palladium Gold by Laura Whitewashed
2.
Wood and Bead Chandelier, from Shoplucketts
3.
Natural wooden bead chandelier with distressed metal detail from Cowshed Interiors
4.
Anvers Wooden Bead Chandelier from Horsfall & Wright
5.
Natural wood draped beads & rope accents pendant hanging chandelier from wholesale central
While there are several stunning designs you may like to make something unique. Here are some beads that we think may look great.
White wood round 12mm natural wood beads 16″ strand
£1.25
Greywood round 12mm natural wood beads 16″ strand
£3.80
Rosewood round 12mm natural wood beads 16″ strand
£3.38
Click here to see the full range of  wooden beads